Using images and videos within copyright rules
A Book looking at copyright, Creative Commons and other legal ways of managing and working with images. Look for the table of contents on the top right.

6. Adding a video to your page
There are several different ways of adding a video to your Moodle page. These produce a video that can be played within Moodle without having to go to YouTube. The video is actually on YouTube or Vimeo, but it gets played in a box on your Moodle site. This is called "embedding".
It is possible to upload a video into Moodle and then Moodle will play the video, but we ask you NEVER to do this but to embed the video instead. There are three reasons for this:
1) This takes up a great deal of space on a Moodle site (a 4 minute video = 200 essays).
2) Playing a video will slow down the Moodle site and other sites on the same server.
3) YouTube and Vimeo have specialised adaptive video players so that if a student has slow broadband, then the video will work, but be played at a lower quality to cope.
There are various different ways to embed a YouTube (or Vimeo) video into a Moodle page. As with many things in Moodle the more complicated methods offer greater flexibility but this is the simplest
1) Find your YouTube video and look for its address. The address in the top bar can work, but it is better to get the address from the share link as this will not contain any extra information. So click on the word "Share" and then copy the address that you see.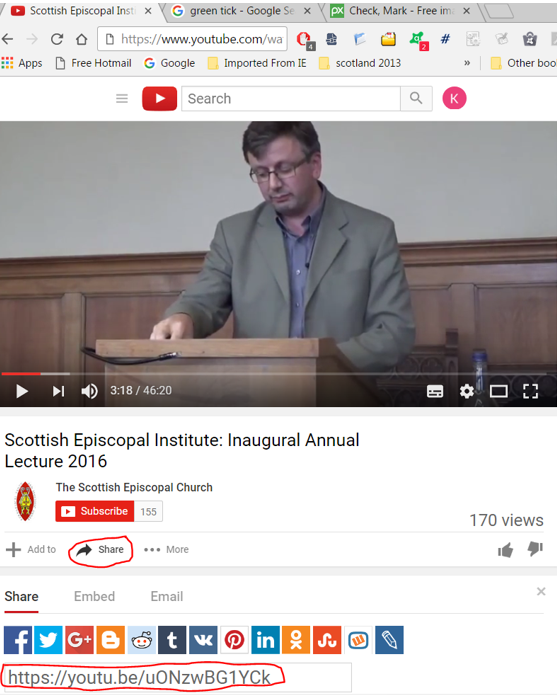 2) Now go to any Moodle activity where you can put in text and paste this link in. Then you need to make sure that Moodle knows that this is a link. Highlight what you just pasted, click the link button and enter the link and click insert.

When you save this content and view it in Moodle is should have become a video. If it has not, then your site may not be set up to do this automatically. Try this method instead:
Click the video button, paste the link in the video section and click insert media.